トップページ > 診療科・部門 > 診療科 > トラベルクリニック > 25.English
25.English
電話番号:03-3202-1012(直通)
Travel Clinic
We are the one of the beggest Travel and Infectious Diseases Clinic in Japan
Open: from Monday to Friday. 8:30-16:00
- Pre Travel Health Check 8:30-11:00
- Immunization/Pre travel consultation 8:30-16:00
Yellow Fever Immunization (Before yellow fever immunization, prior consultation is required)

Tuesday: 9:40-12:20
Thursday: 9:40-12:20 & 13:30-14:20
Appointment Desk (phone number): +81-(0)3-3202-1012

Only at the first visit, we will receive a consultation fee of ¥ 2,820 (tax not included)
Travel Clinic Vaccine Price(PDF:177 KB)
The Disease Control and Prevention Center (DCC) was established on October 1, 2004. With the opening of the DCC, the former Medical Check up Center has newly established as the current Travel Clinic. We have provided complehensive medical services for each client and patinet as the below chart.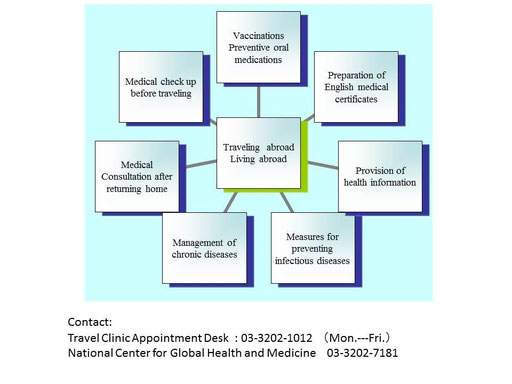 Besides Pre-travel consultation, we provides Post-travel medical services. After returning home from an overseas trip, if you have a fever or feel ill, please contact us. Examinations could be scheduled for the same day. Feel free to contact us if you need clarification on any other questions (after bussines hours, please directly call to NCGM hospital.
Student Travel Vaccine
We started "Student Price" service since August 2013.
How to make an appointment for consultation at Travel Clinic?
STEP 1
Please call to Appointment Desk for your first visit at business hours on weekdays.
Phone number: +81-(0)3-3202-1012
Business hours: 8:30-15:00 (JST) from Monday to Friday
For a specific appointment for yellow fever immunization, Appointmend Desk is opened from 15:00 to 17:00
In case you can not speak Japanese at all and it is difficult to make your appointment by phone, please send the following information to the E-mail* of travel@hosp.ncgm.go.jp (Please change @ from full-width characters to half size). We will contact you after checking your data posted by e-mail (It may take time to contact you, because answering for calls is our priority).
In your mail, please include all information mentioned below.
The purpose for your visit (consultation for immunization before travel, health check-up, etc.) If you have a specific form or document to issue your medical certificate, please attach the information with your mail.
Preferred date of your visit (Please mention more than one schedule as much as possible and please note that your appointment will be confirmed with subsequent contacts, so you may not be able to make a date on the proposed schedule)
Contact phone number (We may contact you by phone for confirmation or adjustment of your visit)
Your Information of full name, gender, date of birth, and nationality.
STEP 2
In case of consultation about vaccination, please send the past vaccination record in advance.
Also, if you need to prepare a medical certificate or studying abroad documents in the default form, please send the form in advance in order to confirm the contents.
Please send the above documents to the following.
FAX: 03-3207-1038
or
E-mail*: travel@hosp.ncgm.go.jp (Please change @ from full-width characters to half size)
* In principle, we do not respond to E-mail for reserving appointments, changing reservations and general questions.
Please call us directly at 03-3202-1012 during the daytime on weekdays.
STEP 3
On your appointment day, please come to NCGM withtout delay.
Access map


please stop by the first visit reception and receive ID and chart.Pick up your ID card at the First Visit desk at main hall.
Please stop by the initial visit reception on the right after entering the hospital entrance and receive ID and chart.
STEP 4
Please stop by first reception after entering the hospital entrance and pick up your ID and chart. Then you could follow the direction to Travel Clinic. The clinic is located on the first floor of the central building.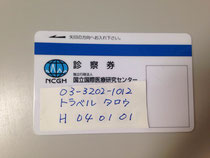 Clinic Staff
Yellow Fever Vaccine : English Patient Information
Yellow Fever Vaccination
"Yellow fever vaccine" which is currently approved in Japan is expected to be unavailable after November 2018 due to discontinuation of manufacturing of 5-doses formulation by a pharmaceutical company. Therefore, at our hospital, to continuously provide opportunities to receive yellow fever vaccination to those who need it in Japan, we conduct clinical research with another yellow fever vaccine unapproved in Japan, "Stamaril."

Please refer to the explanatory document on the research here.

In our clinic, we are requesting two visits to everyone who need yellow fever vaccination in principle. The first visit is for comprehensive consultation to inform research issues and judge the indication for yellow fever vaccination. And then, yellow fever vaccination the certificate (Yellow Card) would be provided at the second visit.

For an appintment for yellow fever consultation (at 1st visit), please call to appointment desk (03-3202-1012) at 15:00-17:00 on weekdays.
Vaccination Service is available on every Tuesday and Thursday (at 2nd visit).
Tuesday 9:30-11:50
Thursday 9:30-11:50 13:30-15:00
The price for International Certificate (Yellow Card): 3,240 Yen (including tax)